Trapped Spirit
Restless Spirits, Book 3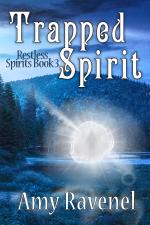 Tabitha Lawson grew up hunting ghosts and working with psychics. Now, she's ready to take a step back to see what else life has to offer. But she agrees to go on one last investigation with the Restless Spirits team when her oldest sister Lisa calls in a favor. The thing she didn't expect was that the investigation involves Laureline Lake, its ghost, and its mysterious portal.
They say that once the portal sucks you in, it won't let you go.
Tabitha narrowly missed the portal's pull the first time she and her sisters examined it, but this time, her sister is determined to see what's on the other side. When the portal opens, Lisa yanks Tabitha and their other sister Corrie in with her.
Aaron Lawson loves hunting ghosts with his wife Tabitha. As far as he's concerned, they make a great team. He doesn't want to let that go and argues with her about it on the day of the Laureline Lake investigation. But when she disappears into the portal, Aaron realizes he has no idea how to get her back. He and the rest of the Restless Spirits team have to work with his estranged father-in-law to find a way to save her.
Can Tabitha, Aaron, and the team find a way to pull her and her sisters out of the portal? Or will Tabitha become one of its victims?