Cursed Spirit
Restless Spirits, Book 2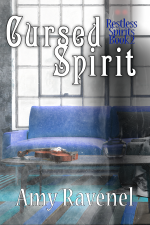 Drew Keane doesn't want ghosts to attack him anymore. As the man in charge of technology at Restless Spirits, Inc., he plans to put his knowledge to good use and create a Ghost Disruptor. After all, that's why they pay him the medium-sized bucks.
His girlfriend Jaime Liu loves antiques. When she finds the most perfect old fiddle for her house, she buys it as quick as she can. But it comes with a legend and a possible curse.
When a ghost starts to menace Jaime's ten-year old daughter, she turns to Drew for help. Drew thinks his new Disruptor can destroy the ghost. But this ghost zeroes in on him, exposing a family secret.
Can Drew and Jaime learn why the ghost wants Drew? And can they stop it before it kills him?