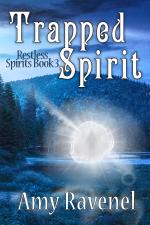 Trapped Spirit
Restless Spirits, Book 3
Tabitha Lawson grew up hunting ghosts and working with psychics. Now, she's ready to take a step back to see what else life has to offer. But she agrees to go on one last investigation with the Restless Spirits team when her oldest sister Lisa calls in a favor. The thing she didn't expect was that the investigation involves Laureline Lake, its ghost, and its mysterious portal. They say that once the portal sucks you in, it won't let you go.
Continue reading | Buy on Amazon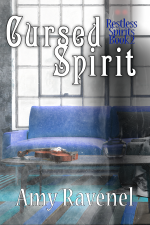 Cursed Spirit
Restless Spirits, Book 2
Drew Keane doesn't want ghosts to attack him anymore. As the man in charge of technology at Restless Spirits, Inc., he plans to put his knowledge to good use and create a Ghost Disruptor. After all, that's why they pay him the medium-sized bucks. His girlfriend Jaime Liu loves antiques. When she finds the most perfect old fiddle for her house, she buys it as quick as she can. But it comes with a legend and a possible curse.
Continue reading | Buy on Amazon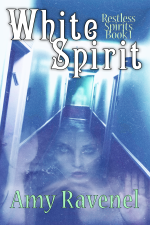 White Spirit
Restless Spirits, Book 1
Tristan Johnson is done with the past, his own and the visions he sees. After an accident involving his unstable psychic ability, he starts over in Asheville, NC. Hidden Forest Apartments seems like the perfect place for him – his friends live there, it's close to work, and the Blue Ridge Mountains surround it. But Hidden Forest has a dark secret. Legend has it that a ghost known only as The White Lady haunts the building.